Gotland wool has a very high warmth to weight ratio, providing a great deal of warmth and comfort. The fibre is fine, lustrous, has a soft handle with a clearly defined curl (spurl) from 10mm to 15mm. The wool has a good tensile strength. Gotland overdyes producing subtle colours.
Perfect for spinners, knitters, textile artists, weavers and felters.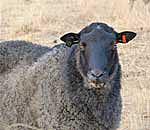 Gotland fleece is very rare in Australia, it is a breed of domestic sheep named for the Swedish island of Gotland. They are thought to be the result of cross breeding between the native Gute with Karakuls and Romanovs during the 1920's with the result being fine, long, lustrous, soft and curly pelts. The main difference between the original Gute and improved Gotland is that they are entirely polled (without horns in a species that is usually horned).

Gotlands are easy to manage, they are docile and inquisitive, making them easier to handle than the other more primitive northern short tailed breeds. They don't have sluggish personalities, which makes them easy to tame and manage without a dog. The flock is managed organically with a sustainable/permaculture approach to farming. No mulesing!!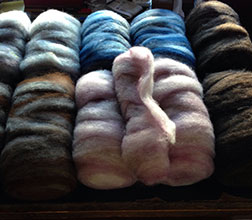 For all the spinners and felters Gotland ROVINGS have arrived and will be introduced to the store next week. It is so, so soft and I'm looking forward to spinning it, especially the roving bottom left!! It's a blend of white Gotland, grey Gotland and rust Llama.
Natural Gotland rovings homespun by Wool & Cotton Road are available.
Gotland rovings are available here. Luxuriously soft rovings for spinning or felting.